Homeowners who are looking for more eco-friendly methods to renovate their homes now have more options for using artificial grass/synthetic turf.  Savon Pavers offers these alternative options to landscapes that will lower watering costs and still look amazingly beautiful. It is unbelievable how hard it is to distinguish between ordinary grass and synthetic turf these days thanks to the innovative technology we now have.
Making synthetic turf an addition to your home improvements instead of natural grass will not only save you money on your water bill, but it creates a tremendous benefit for the environment and for your home.
Artificial Turf Benefits
Water Conservation– The average home has approximately 1,800 sq. ft. of grass, and studies have shown that each sq. ft. of natural grass replaced with artificial turf saves 55 gallons of water per year. That's 99,000 gallons of water that you can save each year!
Excess Waste– With synthetic-turf there is no need to mow the lawn. No mowing means no waste! Also, forget about all of those annoying weeds growing throughout your front and backyard.
Maintenance– Adding synthetic turf to your home will reduce the time one needs to maintain their yard. This is perfect for on-the-go couples with little time to spare or for those that physically cannot maintain their landscape on their own.
Health– With synthetic turf you will never worry about fertilizers or other chemicals; this is the reason why Savon Pavers proudly uses hazardous waste free Synthetic Turf!
Investing for the Future – Synthetic Turf lawn will save the owner some serious money over time, which is why it's an asset to add turf to your home.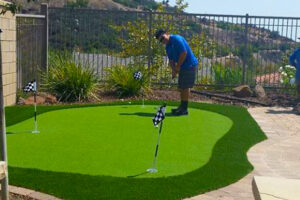 Call us today at (855) 749-8739 for a free estimate and design for your project.