Living in Southern California, we know what it's like to deal with minimal rainfall and abnormal drought conditions. Water conservation has become a way of life for us. Because of this, pavers make a great solution for your landscape design. Pavers are drought-tolerant, and they help conserve water. When combined with artificial grass and drought-resistant plants, your new paver project will benefit the environment and let you enjoy your home so much more.
Many homeowners still have cement, natural grass, or even just plain dirt that surrounds their home. As more land gets paved, concerns about water runoff increase. The good news: A variety of paving products allow water to percolate through to the ground underneath, limiting water runoff, preventing erosion, filtering out pollutants, and improving the health of soil and vegetation.
Why you should consider a modern paver design project for your outdoor living area
Keeping a lush, green yard in San Diego and Ventura County can be a challenge because it requires a lot of water (that is often wasted) and maintenance. Despite all your efforts, the grass can turn brown and your plants die.
But, with proper planning, one of our design consultants from Savon Pavers can work with you on finding the best solution for your yard. Modern paver design projects add value and beauty to your home, but they can also improve water conservation.
Our professional team will collaborate with you to create a drought-tolerant landscaping and hardscaping design you will enjoy for a lifetime. And, you can rest easy knowing you are doing your part to help the environment.
Permeable pavers help water return to the ground
While pavers will improve the aesthetics of your home, permeable pavers are more than just a decorative solution. Their eye-catching appearance (which we call curb appeal) and easy installation make them the perfect fit for any number of applications, but they're also capable of a lot more than just looking great.
Permeable pavers are among the most drought-resistant landscaping materials around. Their ability to let water pass through means that they can help you reduce your water usage, lower your water bill, and limit your landscaping water runoff.
Because pavers are drought-tolerant, they allow for water and moisture to seep into the ground. This means more water is available for plants and less water makes it into the storm drains. Because of this, pavers are a drought-tolerant solution you should keep in mind when looking at a home improvement project for your outdoor living space.
Permeable pavers provide other benefits, too
Yes, permeable pavers help return water to the earth, which leads to avoiding soil erosion issues, but they provide other benefits, too:
The design possibilities are endless

These pavers come in several designs, shapes, materials, and colors

Permeable pavers are easy to maintain

They will last a lifetime
Artificial grass provides a no-water solution for your yard
With abnormal drought levels, many homeowners in this area consider artificial grass a viable, affordable, and long-lasting solution when trying to balance a beautiful home with protecting the environment.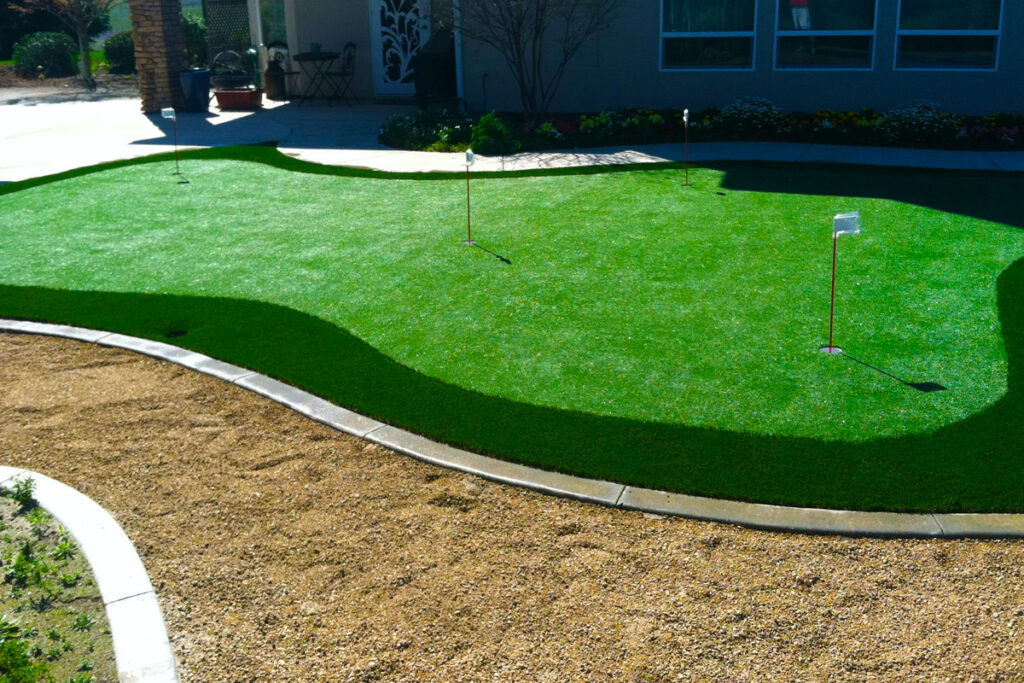 Synthetic turf has come a long way over the years, and it closely resembles the real thing. Our design professional will help you find a variety that will work for you depending on how you want to use it. Will there be a lot of walking on it? Do you want it to serve as ground cover between pavers that have been spaced out? Are you planning a recreational purpose for the synthetic turf, like a putting green? Savon Pavers will help you sort all that out.
Your new artificial turf will require little to no maintenance, so it saves water and hassle for homeowners. It's a practical option to consider for areas prone to drought conditions, like we see here in the San Diego area.
Drought-tolerant plants play a role, too
As the idea of a drought-tolerant landscape has become more popular, so, too, has been using a combination of artificial grass with drought-resistant plants that have adapted to thrive with less water than the average landscape.
Drought-tolerant plants are typically native to areas where water is scarce and they have evolved to adapt to these conditions. This doesn't mean that they don't need any water; they just require less than other plants.
The San Diego County Water Authority, along with its partners, created a Nifty Fifty list of 50 plants that can thrive in this area's drought conditions. Among them are several varieties of succulent plants that require very minimal watering, which makes them environmentally friendly while still adding beauty to your landscape.
These plants not only save you money on water, but they also give the surrounding areas a more rich and vibrant look. For example, if you are building a paver driveway, drought-tolerant plants can surround the border and provide a strong and attractive look, adding to your home's curb appeal. If you would like to know more about which plants are best to use and how they can look great with your paver project, then contact us today.
Bottom Line: You can start the process at no cost
When you work with Savon Pavers and our team of professional designers and crews, we'll create a one-of-a-kind design for your outdoor living space. We'll create a design that will add beauty and value to your home, as well as be an eco-friendly solution that will conserve water and save you money on your water bills.
We know trying to figure all this out by yourself can be daunting. Together, we will work through the confusion and focus on what is important to you, and what kind of drought-tolerant paver project will work for your exact conditions, including the available space and the terrain.
The best part about exploring a new home improvement paver project is we can start the process with no money. Just contact us, and a designer from Savon Pavers will work with you to come up with the perfect design. Then, we'll create a 3D design at no cost to you so you can see how beautiful the project will look and how it will enhance your home.
Call us today at (855) 749-8739 to learn more about how pavers are drought-tolerant, and be sure to ask for a free estimate and free 3D design for your project.