Any good backyard transformation begins with a proper paver design process, including a beautiful paver patio, a smart pathway, perhaps a custom fire pit, and an outdoor dining area. But what if you don't have much unusable space in your yard because of a sloping hill that eats up so much space? Don't worry. We can help.
Your backyard transformation starts with a free paver design consultation
You can do what one homeowner did: Reach out to Savon Pavers for a free consultation to see what can be done. The desire was simple. The client wanted us to beautify and upgrade the home with a solution that would last. Pavers are a perfect choice for a long-lasting project.
Before the homeowner went through our paver design process, there was a concrete slab in the backyard, and it started to crack. It provided enough space to cook on a grill out back, but not enough room for a family to enjoy an outdoor dining experience. Concrete squares along the sides of the home provided a pathway connecting the front of the home with the backyard.
As part of our paver design process, the consultant and client worked together on a solution that would add curb appeal — that "Wow!" factor, beauty, and functionality to the family's outdoor living space.
Here's what they decided:
Add a new retaining wall with planter boxes
Create a modern, outdoor patio with enough room for a dining area
Build a custom-designed fire pit
Complement the paver design project with turf highlights
But, first, we had to add usable space.
Digging into the slope and moving earth allowed for the expansion of usable space
When our professional crew arrived on the scene, we cleared out the yard by ripping out all the concrete and tearing out a small retaining wall. With these elements out of the way, they began leveling the backyard and digging out the hill that encroached into the yard.
After preparing the yard for the transformation, we started to build out the irrigation system to mitigate stormwater runoff.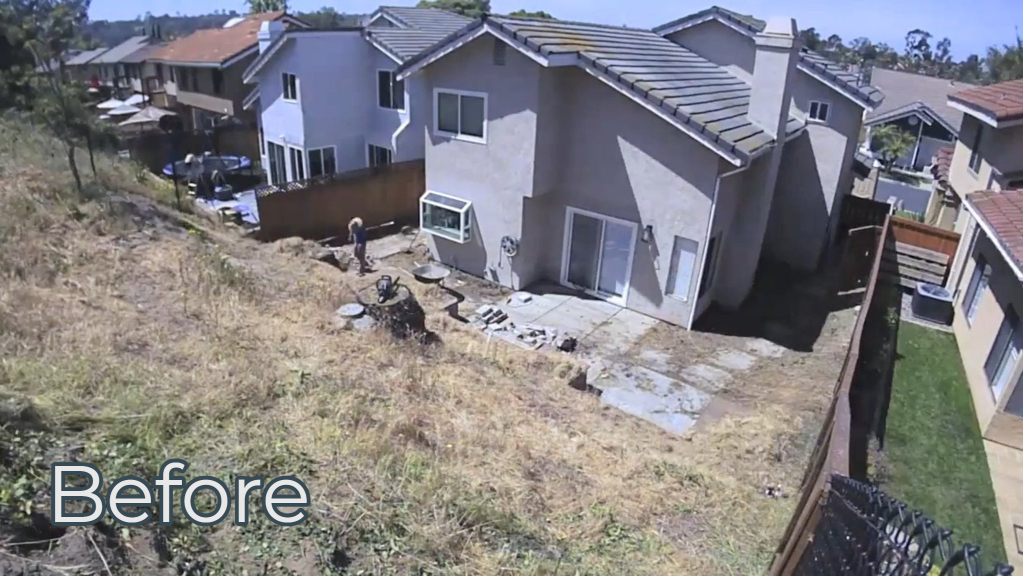 Retaining wall provides definition and decoration
When you're working with a sloped backyard, it's almost always better to remove some of the earth in order to create a level and usable space.
Retaining walls are designed to keep the earth in place, as well as control drainage and erosion. But, nothing says they can't add beauty and character, as well as function. This home already had a small, functional retaining wall. However, to give the family more space, we demolished and removed the nondescript, existing structure.
Before our crews could build the retaining wall, they had to excavate part of the hill and dig a trench deep enough to support the height of the new wall. It's critical to get these things right to ensure the safety and longevity of the wall. Savon Pavers' team members have built many walls, and you can be confident your wall will be as sturdy and durable as possible.
The modern outdoor living area takes shape
As the paver design project unfolded, there were times when several aspects of the job unfolded at the same time. For example, as the wall went up, the irrigation system went in. When the irrigation was taken care of, and the wall substantially built, the focus turned toward leveling the yard and pouring concrete.
The concrete provided the foundation for the rest of the modern outdoor living design. We brought in a sand-like paver base to undergird the pavers. This base helps keep the pavers locked in place.
This project included a custom-built fire pit on a paver foundation with artificial grass highlights. Because of the lack of rain in San Diego and surrounding areas, it is difficult — and it can be expensive — trying to keep the lawn a deep green. But, the synthetic turf immediately added lush green accents that stood out.
The new fire pit area provided the family with nearly as much usable space as the entire yard did before the backyard transformation. This made it possible for the family to kick back and wind down after a long day by the fire pit.
The expanded yard still had ample space for outdoor dining furniture. So, not only could the family unwind by a fire, but they could also enjoy a meal in the outdoor living area.
Why should you consider a paver project for your home?
When we were approached about this project, the goal was to beautify the home and provide a solution that would last a long time. Our experienced design consultants and on-site crews delivered so much more.
Paver projects are popular because they add value and beauty to your home. Additionally, if you decide to sell your home, a paver home improvement project will bring an excellent return on your investment.
Here is a sample of the work we can do to improve your home that will provide you with more enjoyment of your outdoor living space:
What can you expect from a paver design project for your home?
When our crews come out to your house, they will have no need to go inside. We bring portable bathrooms.
During the job, they might need access to your driveway and use it to stage equipment, materials, and supplies. Because of this, you might not be able to park in your garage.
Also, while we work in the backyard, it might be necessary to let the dog out in a different area.
Find out what our paver design process can do for your home
When you're ready to add a retaining wall, a paver patio, a custom fire pit, or a driveway, to your property, we'll be happy to walk you through our paver design process. You just might be amazed to see what our talented designers create for your home.
Our designers are well-respected; our crews are experienced; and our reputation in the industry is top-notch. Contact us to receive a free consultation and a free 3D design of what we can do for your home.
Savon Pavers has been providing quality paver installations throughout San Diego, San Diego County, and Ventura County for more than a decade. Find out what we can do for you today.
Call us today at (855) 749-8739 to learn more about how pavers are drought-tolerant and be sure to ask for a free estimate and free 3D design for your project.