You've been in your home for a while, and you really want to do something to give it a new look to create ambiance. More people like yourself are finding exactly what they need in modern paver projects and artificial grass installations.
Whether you're looking for paver stones to give your front entrance and driveway a fresh look, or synthetic turf for that backyard patio renovation, the professional designers can help you bring your dream to life or assist you in casting a vision for your place.
As you ponder a modern pavers project, here are some of the latest trends we are seeing at Savon Pavers:
Pavers to complement or renew your outdoor living space
Plank pavers
Artisan fire bowls
Paver driveways and patios
Pavers Projects to Complement or Renew Your Outdoor Living Space
Pavers are becoming more popular among homeowners due to their timeless look, incredible durability, and eco-friendly features. From traditional brick to textured concrete to modern paver blocks, pavers are a great option for homeowners who are looking to create a hardscape and landscape that are classic and modern all at the same time.
These kinds of projects are good for families because they create a space outside where you will gravitate toward in order to unwind after a long day, enjoy a meal with family, entertain guests, or sit around a custom fire pit and relax with friends as you partake of your favorite beverages.
Savon Pavers can design and build for you a distinctive paver patio with artificial turf accents. You can use this as a place to get away from the world or use it as an outdoor dining room.
If you want to use your yard for entertaining, we can work with you to create an outdoor kitchen/BBQ island and dining room. For you pizza aficionados, we can custom build an outdoor pizza oven for you. Or, our design can include more common equipment, like a gas grill, a refrigerator, and even a beer tap.
Our expert crews can construct your pavers project so it blends seamlessly with your existing landscape. Or, if you are looking for something totally new, we can handle that, too.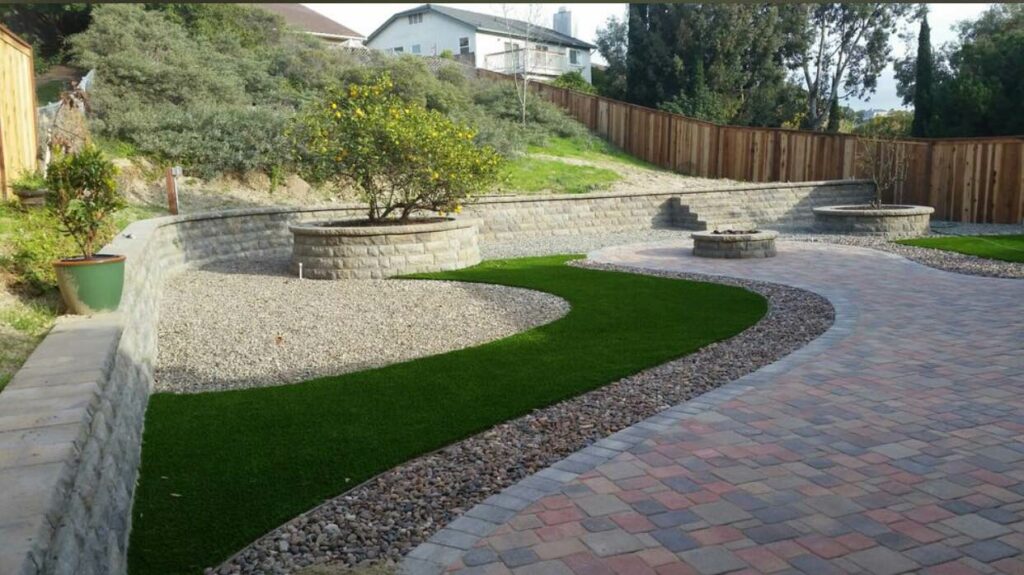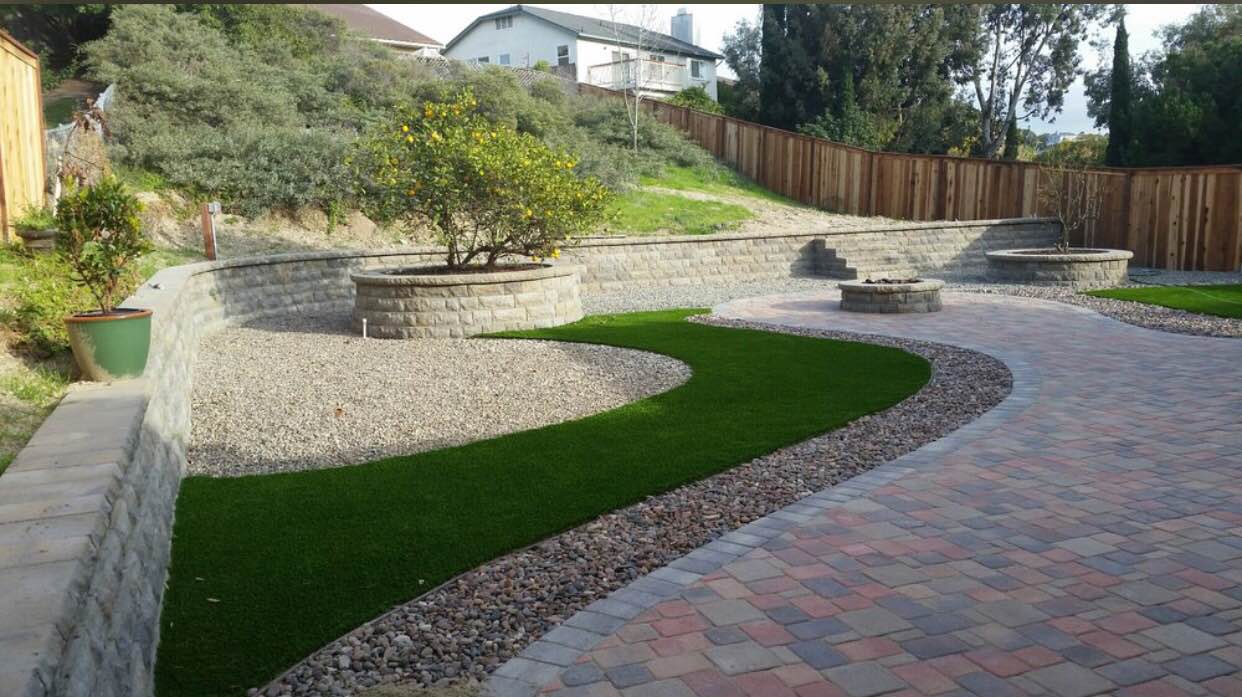 Plank Pavers Growing in Popularity
Another trend in paver projects we see at Savon Pavers involves plank pavers. What are they? They are porcelain or concrete pavers that look like wood, and they sort of look like a deck.
They're very different than your average pavers that come in squares and rectangles. Plank pavers are long and rectangular. People like these plank pavers because are very modern and look like wood.
As manufacturers created pavers with woodgrain textures, it was only fitting for them to design plank-style pavers. Not only do these kinds of pavers offer a look similar to a deck, but also some of the hardwood interior flooring.
While plank-style pavers are becoming more popular, they are still relatively new. It will be interesting to see if this is just a fad homeowners are going through, or if these wood-looking pavers are here to stay.
What do you think?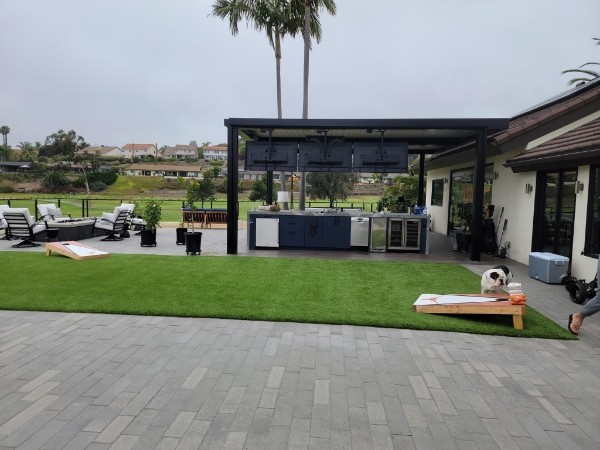 Artisan Fire Bowls
We build a lot of custom fire pits, especially at homes near the ocean. What we are discovering is people who like the idea of a custom fire pit but want to save some money are choosing artisan fire bowls.
Artisan fire bowls are an excellent way to create the perfect ambiance for any outdoor living space and gathering. They are highly versatile and can be installed on a patio, in the yard, or in an outdoor living room.
These beautifully designed bowls — which can be round, oval-shaped, square, or rectangular — by Eldorado Stone provide a beautiful, glowing fire that emerges from within the lava rocks or other stones that fill each artisan fire bowl. Either liquid propane or natural gas provides the fuel for the gentle flames.
The fire bowls measure about 3 feet in diameter and 18 inches high. If you like the idea of a fire pit, but just aren't sure, let's talk about the possibility of adorning your backyard with an artisan fire bowl from Eldorado Stone/Kindred Outdoors and Surrounds.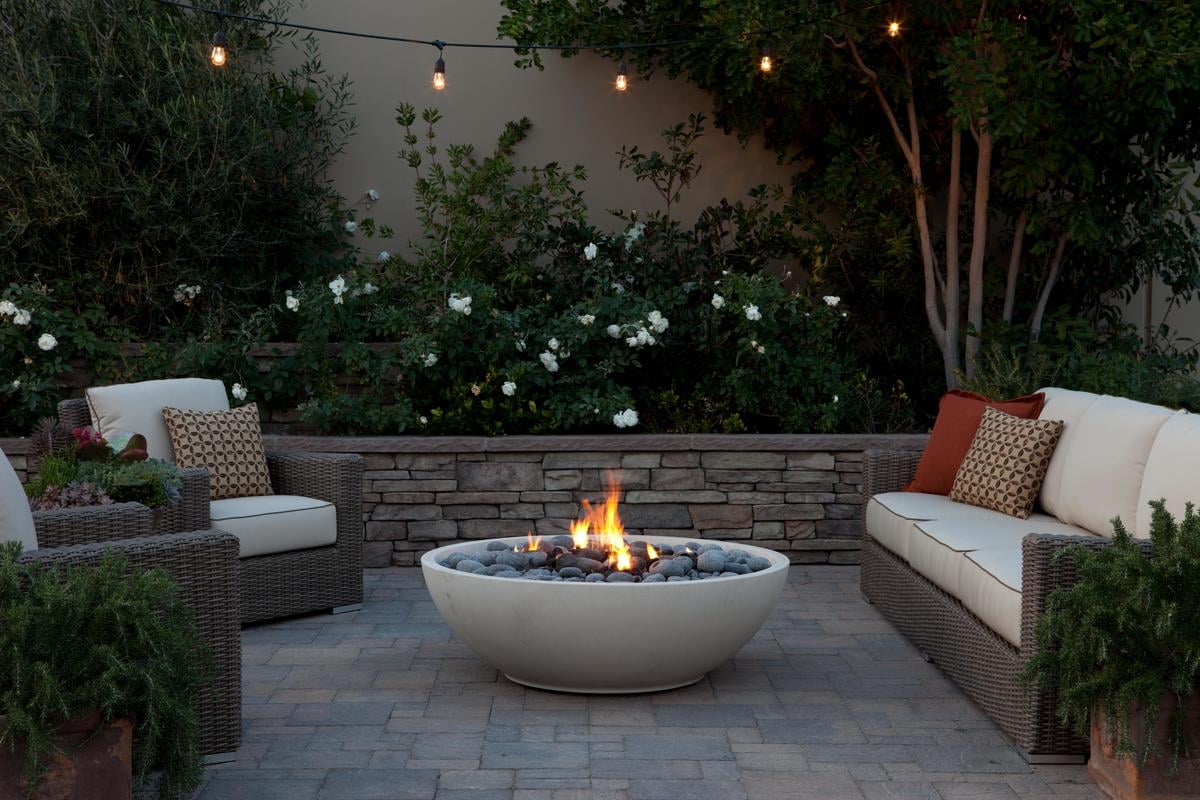 Paver Driveways and Patios are Always Popular
There's no question, year-in, and year-out driveways and patios remain popular paver projects.
Paver driveways give your home instant curb appeal. They just add a special touch to your home that will draw attention. Your neighbors will be in awe of your new paver driveway. They are strong and durable, and over time we believe a paver driveway is a better option than poured concrete. If a paver were to crack, you just replace the paver. With a poured concrete driveway, if it cracks, then it needs to be removed and replaced.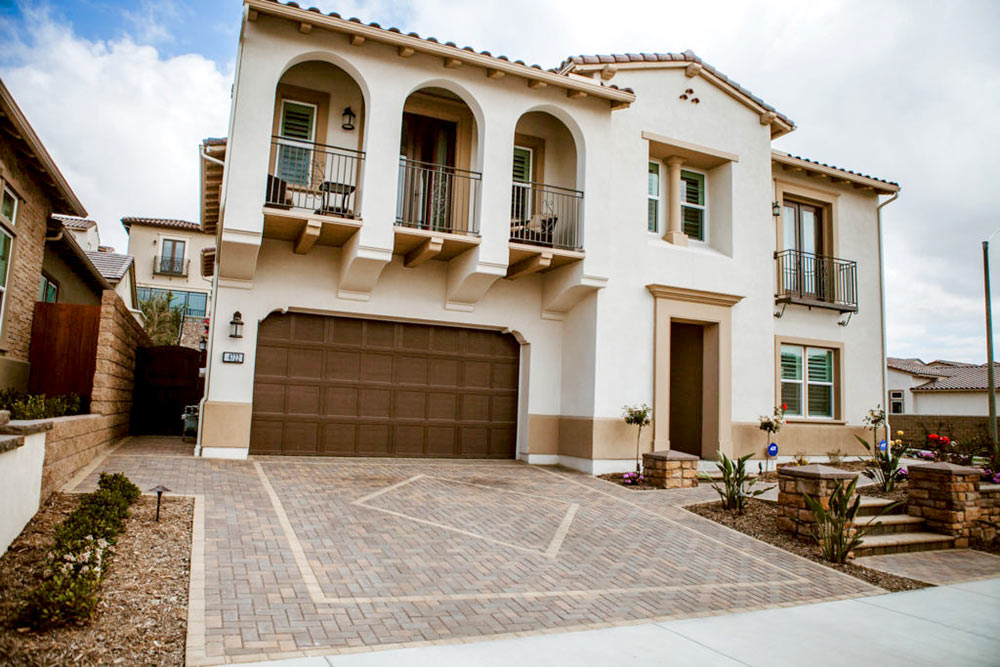 Patios help you extend the interior of your home outdoors (which might be why plank pavers are trending). Depending upon the design, you might be stepping into a whole, new world.
These kinds of projects give you new ways to enjoy your home, especially if you have a backyard that has been underutilized. Our design team can help you envision a beautiful patio, and if we need to totally transform your backyard from a somewhat unusable space to a gorgeous retreat, our crews can accomplish that.
The possibilities are truly endless when it comes to paver projects because they come in so many different designs, shapes, textures, materials, and colors. While most pavers are square or rectangular, we can create circular patterns and designs.
Trade in the boring for the beautiful with a new paver project.
Ready to Explore a New Paver Project?
Whether you want something popular and trendy, or classic and timeless, Savon Pavers can help bring your vision to life.
Let the designers of Savon Pavers help you explore your options to come up with your dream getaway … in your backyard. Schedule a free consultation and get a free 3D design today.
Learn More About Pavers
Trying to understand more about pavers? Here are some of our popular articles: