When you get ready to choose a paver project, you want to make sure it looks great, the pavers will be strong and durable, and you have a variety of colors, materials, and textures from which to choose.
For this reason, Savon Pavers likes to work with Belgard materials.
Belgard pavers can be an excellent option for enhancing the look of your home. They offer a natural look with varying sizes and styles of stone. But Belgard pavers are so much more.
What we like about Belgard
Belgard is an industry leader when it comes to pavers; it is the No. 1 brand in North America. The company has a strong commitment to research and development, which means they are constantly improving.
You cannot become a leader in the paver world without delivering a quality product, and that's what Belgard does.
But, a company cannot be an innovator in this area without offering the kinds of pavers, blocks, and materials that will transform a backyard into a destination place for you, your family, and your friends.
What can you do with Belgard materials?
You can do just about anything with the wide range of products Belgard manufactures, which means we can design your dream backyard with Belgard's wide variety of materials. Here are the kinds of products Belgard manufactures:
Pavers and slabs for patios, driveways, entryways, pathways, outdoor rooms, pools, and steps
Permeable pavers for patios, driveways, entryways, pathways, outdoor rooms
Porcelain pavers for outdoor living spaces
Pavers and products for outdoor kitchens, living rooms, and fire pits
Pavers and slabs to create your dream space outdoors
As you think about how you want your outdoor living environment, your driveway, your pathways, or your pool "deck" to look, think about whether you want something with an antique, natural, environmental, or metropolitan feel to it. Whatever your desire, Belgard likely has a paver or slab design to help you fulfill your vision.
And, if you have trouble honing in on one style, Belgard pavers are designed in a manner that allows you to mix and match. Our designers will be happy to help you envision how your dream space outside can look with a beautifully designed stylish paver project.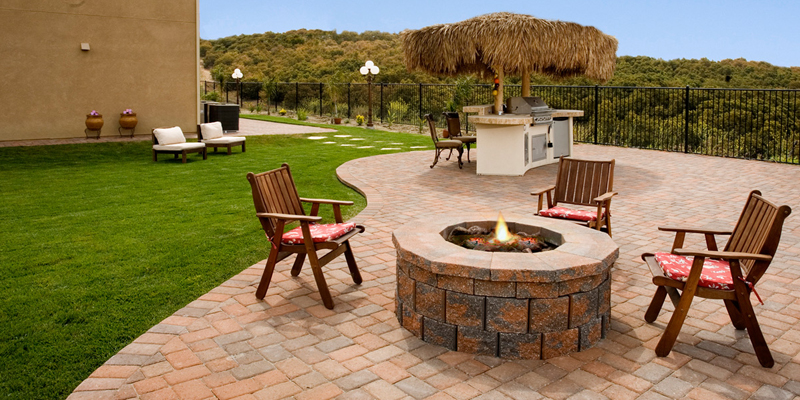 Paver patios, entryways, pathways, and driveways
If you are looking to have a paver patio, entryway or pathway designed, Belgard offers traditional paver styles, as well as classic styles. Because they come in a number of shapes, styles, and colors, our designers can create a range of patterns for your outdoor project.
With a paver patio, you and your family can recline and relax under the night sky. If you are feeling a bit adventurous, turn it into an outdoor living room.
A paver driveway will let you create a stunning entrance into your home with amazing curb appeal. They can handle greater weights per square inch, and they come in a variety of colors, styles, shapes, and textures. This means there are endless possibilities when it comes to designing your new paver driveway.
Pathways and entryways add a nice touch to yards, and they are a safe option because they are less likely to crack than poured concrete. You can choose from several colors, styles, and patterns.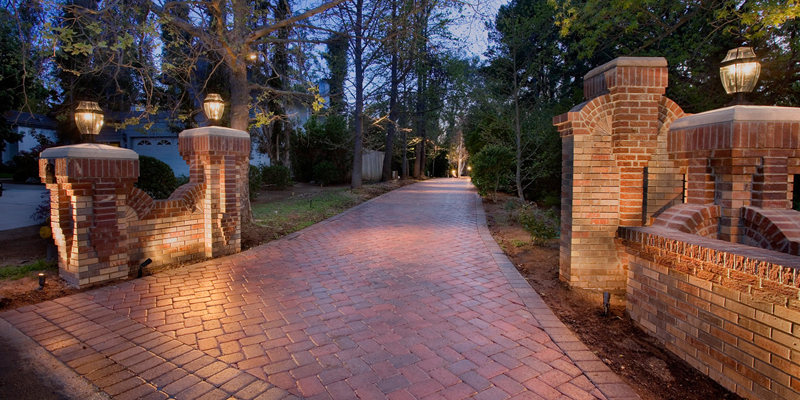 Eco-friendly permeable pavers
We all want to do our part and be good stewards of our environment. Belgard offers a wide selection of permeable pavers. These are good for the environment because this style of paver allows water to return to the ground instead of adding to stormwater runoff that makes its way into the municipal sewer system.
Porcelain pavers
Porcelain pavers have been used in homes for a long time, and now Belgard allows homeowners to use them for outdoor projects. While they are similar to their indoor counterparts, outdoor porcelain pavers are thicker and more durable.
The porcelain outdoor pavers are skid- and stain-resistant. So, they provide safety and are easy to clean.
Outdoor kitchens, dining rooms, BBQs, and fire pits
Belgard's pavers and materials can also be used to create outdoor kitchens, dining rooms, BBQs and fire pits. An outdoor kitchen and dining room help you extend your indoors to your yard.
Your entertaining options will be greatly expanded with an outdoor kitchen or BBQ island that includes the outdoor dining room and fire pit. Who knows, you might not want to go inside, except to sleep.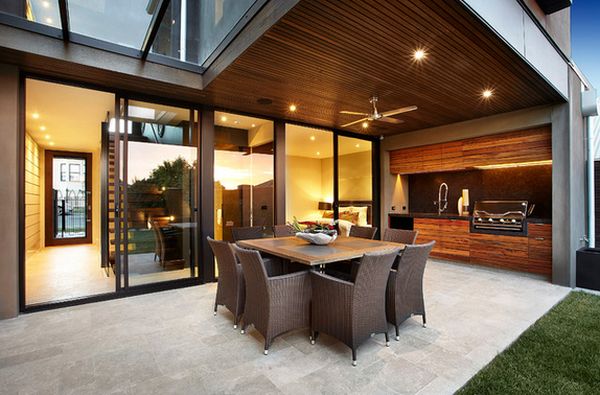 What can you expect from Belgard pavers, materials, and products?
When you are looking to beautify your outdoor space, we often recommend Belgard pavers and materials for several reasons that make sense aesthetically, pragmatically, and financially.
Because Belgard is an innovator and committed to research and development, you can find concrete paver, permeable paver, and natural stone designs that will elevate your outdoor living space to the next level.
Design flexibility
With Belgard materials, you can expect design flexibility. Because you can mix and match Belgard's different collections — Natural, Heritage, Legacy, and Metropolitan — you have so many paver design options. Your final creation will be something with your unique fingerprint.
The durability of strength … and color
When you think of durability with pavers, most people think of their strength and how they last for decades. This is all true. Pavers generally can handle greater weights than poured concrete. While not an issue in San Diego, Ventura County, or Orange County, Belgard pavers are more resistant to freeze-thaw cycles.
While pavers are indeed very durable from a strength standpoint, Belgard's pavers are also durable when it comes to color. Belgard uses an innovative process with its color blends that integrate them throughout each stone. This process helps the paver color stand out for years (but make sure you take time to pressure wash your pavers to keep them looking great).
Safety
Interlocking pavers offer homeowners and business owners several safety features.
Because some lines of pavers are manufactured to handle greater weights, they are an excellent choice for driveways. They have the ability to flex without cracking; they can be used immediately because the pavers do not need to cure or harden; if something happens to a paver, they can be replaced without having to rip out a large section.
Low-maintenance pavers
Belgard pavers are strong, durable, beautiful, and low maintenance. The pavers last for decades and require very little work. Keep them clean, and they will last longer. This is why we recommend pressure washing your pavers annually. We will be happy to pressure wash your paver project with our state-of-the-art technology.
Ready to explore a new paver project?
The Belgard family of products is manufactured with the highest standards of quality, providing durable solutions to a wide range of applications that will enhance your home's outdoor living environment.
Let the designers of Savon Pavers help you explore your options to come up with your dream getaway … in your backyard. Schedule a free consultation and get a free 3D design today.